Make your next broadcast event really stand out. Our Broadcast Desk is a sure way to get your program some serious street cred. Gone are the days of setting up a couple of folding tables and a banner. Your show will take a real leap forward with the Broadcast Desk. It is a custom built remote broadcast studio, able to comfortably seat a host and 5 guests. The host and guests can maintain clear sight of one another, while still maintaining a face-forward presentation with the audience.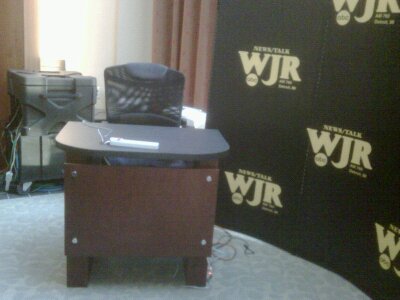 And if that isn't impressive enough, the Broadcast Desk is able to include your station and show logos, as well as message slates and sponsor graphics and messages, on a 42" High Def monitor. Dazzle your audience and clients with the Broadcast Desk, or better yet, sell the event sponsorship on the display and create an additional revenue stream for your station!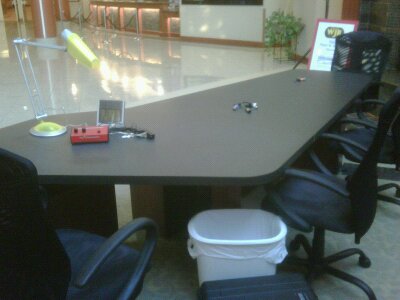 The Broadcast Boardroom desk provides expansive space for the program host, and comfortable seating for 4 guests. An important facet of the Broadcst Boardroom is that host and guests are all easily prone to the audience and any TV cameras and photographers attending your event!